The DEVOPS Conference
The DEVOPS Conference returns for the eighth time, bigger and better than ever! The conference brings together everyone in the DevOps ecosystem - executives, managers, engineers, programmers, and designers.
This year's conference features Management and culture, Transformations, Cloud & serverless, Digital service creation, Continuous everything and Security & compliance. You'll learn from real cases how better decision-making and better tools for DevOps deliver customer value faster, with better quality.
The DEVOPS Conference 2021 in numbers
10000
Registrants
6500
Attendees
117
Countries
60
Speakers + hosts
8
Average attendance time
8
Audience rating
DevOps Dozen Awards finalist consecutively!
We are proud to announce The DEVOPS Conference was selected as a finalist the second time around in the Best DevOps Virtual event of the year 2021 for the DevOps Dozens Awards!
Please vote now for the ultimate winners in 24 categories. Voting ends December 31, 2021.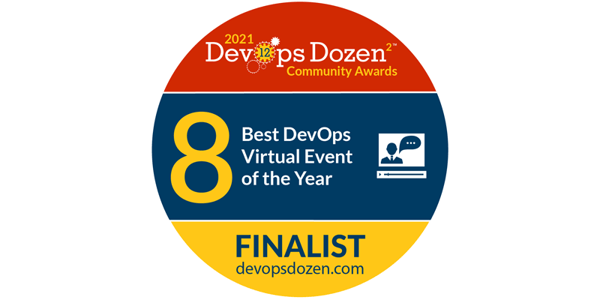 A free conference powered by Eficode
The DEVOPS Conference is the result of the merger of two leading DevOps events in the Nordics: CoDe-Conf & DEVOPS 2020. Eficode has proudly been organizing these two events for many years to help spread the DevOps approaches to software development and contribute to building the DevOps community in Europe. Why attend?
Develop your skills thanks to the cutting-edge program
Speed up your business development by training the whole team
Learn what is shaping the future of software development
Network within the industry
See Agenda